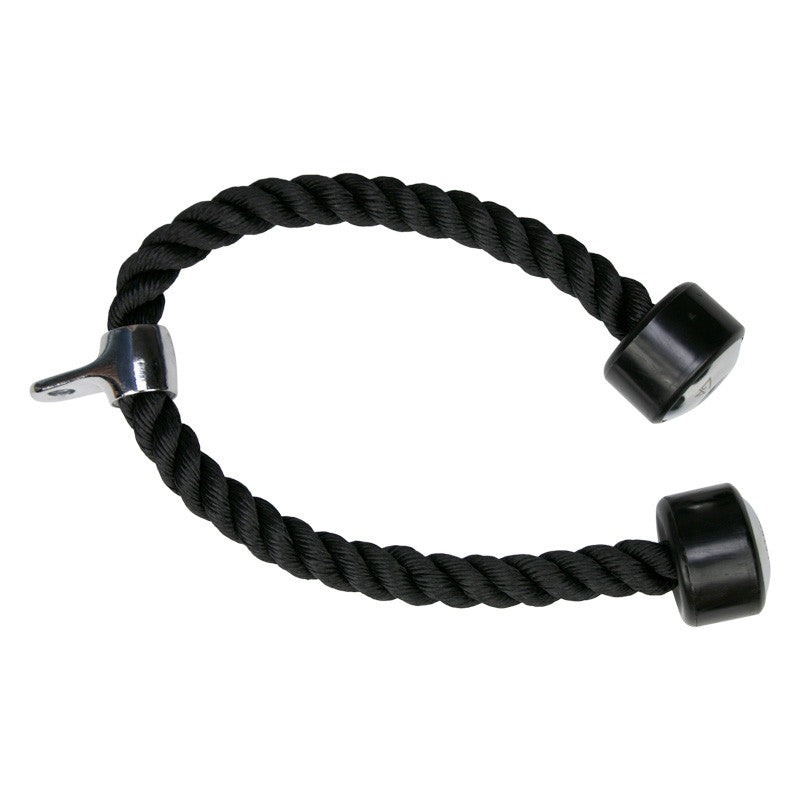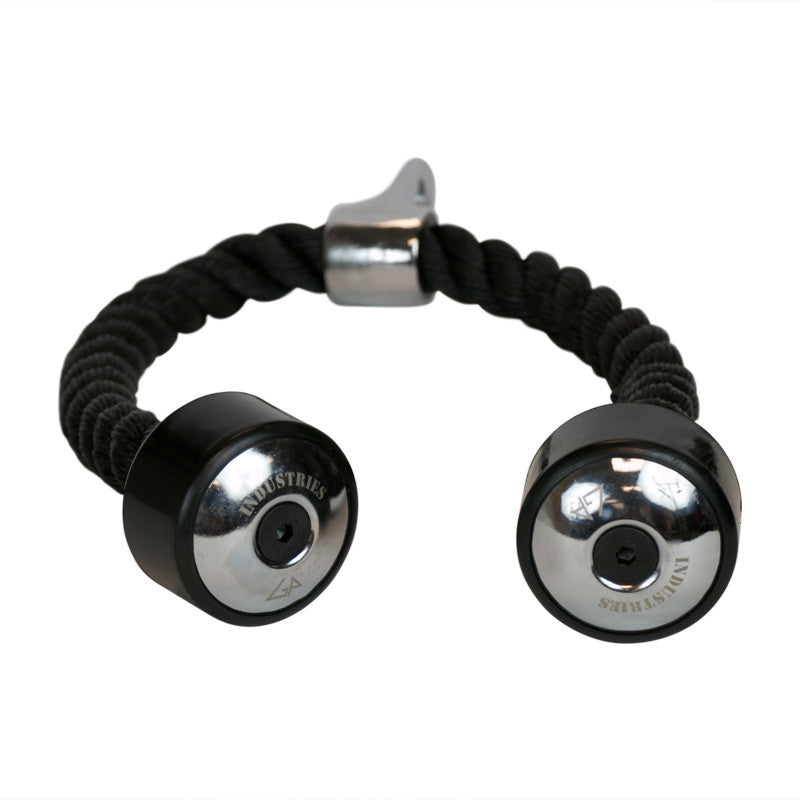 Triceps Press Down Rope Cable Attachment with Rubber Ends
AT-PRR-E
This Triceps press down rope with rubber ends is constructed from a strong nylon rope that is designed to last. You won't experience any annoying fraying with this cable machine attachment. At a length of 24 inches, this rope provides you with the ideal length for a range of exercises, including triceps press downs, face pulls, and overhead triceps extensions.
AT-PRR-E SPECS:
Product Weight: 2LB
Length: 24"
Handle Length (usable): 12"
Handle Diameter: 26.5mm

Rubber stoppers at the ends of this rope ensures that your hands will never slip off the rope while also providing enhanced wear and tear durability. The twisted nylon construction of the rope provides maximum strength while also providing great aesthetics. The solid steel cable attachment on this rope ensures that you get a secure, reliable connection to the weight.

Using a rope on triceps press downs allows you to get greater triceps stimulation with less pectoral involvement. It also provides you with the ability to separate your hands at the bottom of the press down movement. This gives added stimulation to the outer head of the triceps. The enhanced length of our dress down rope magnifies that effect.

• Heavy-duty nylon rope
• Rubber end caps
• Rope length: 24"
• Solid steel cable attachment
• Twisted nylon rope construction
• Weight: 2 LB
PRODUCT SAFETY INFORMATION
At American Barbell we strive to offer the safest products possible and provide our customers with the best safety protocols available. These products have hardware and other items that must be inspected daily for wear/tear and tightened if required. Pull any item from use immediately that shows any sign of loosening or wear/tear. Constant maintenance of all items and disposing of products with excessive wear and tear are imperative to avoid possible injury. To see safety documentation for this product, click here.