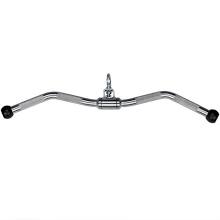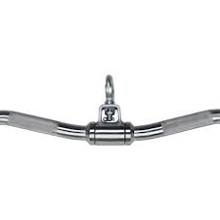 Revolving Curl Bar Cable Attachment
AT-RCB-E
This revolving curl bar is constructed from chrome-plated solid steel, providing a hefty feel that helps to balance out your positioning. The slight angling on the bar allows for ideal ergonomic hand positioning, reducing wrist strain, and forearm involvement.
AT-RCB-E SPECS:

Product Weight: 7LB
Length: 27"
Handle Length (usable): 11"
Handle Diameter: 25.5mm
The wide grip length of this bar of 23.5 inches (most competitor models are 20 inches) allows for multi knurling and grip positions. This allows you to specifically target different positions of the biceps with a close grip and wide grip options. The wide length of the bar provides the versatility of being able to also use it for such exercises as seated rowing and shoulder-width grip lat pulldowns.
The precision knurling on both the inner and outer angles of the bar provides a secure and comfortable grip, reducing the friction force that occurs with hand sliding. The multi-axis revolving swivel design and heavy-duty eye-bolt fastener ensure the connection to the weight stack is smooth, fluid and secure. The safety black end caps measure 1.5 inches, providing a stylish finish to the bar while also protecting it from wear and tear.
Solid steel with hard chrome finish
Grip diameter: 1.00"
Grip length: 23.5"
Multi-axis revolving swivel design

PRODUCT SAFETY INFORMATION
At American Barbell we strive to offer the safest products possible and provide our customers with the best safety protocols available. These products have hardware and other items that must be inspected daily for wear/tear and tightened if required. Pull any item from use immediately that shows any sign of loosening or wear/tear. Constant maintenance of all items and disposing of products with excessive wear and tear are imperative to avoid possible injury. To see safety documentation for this product, click here.