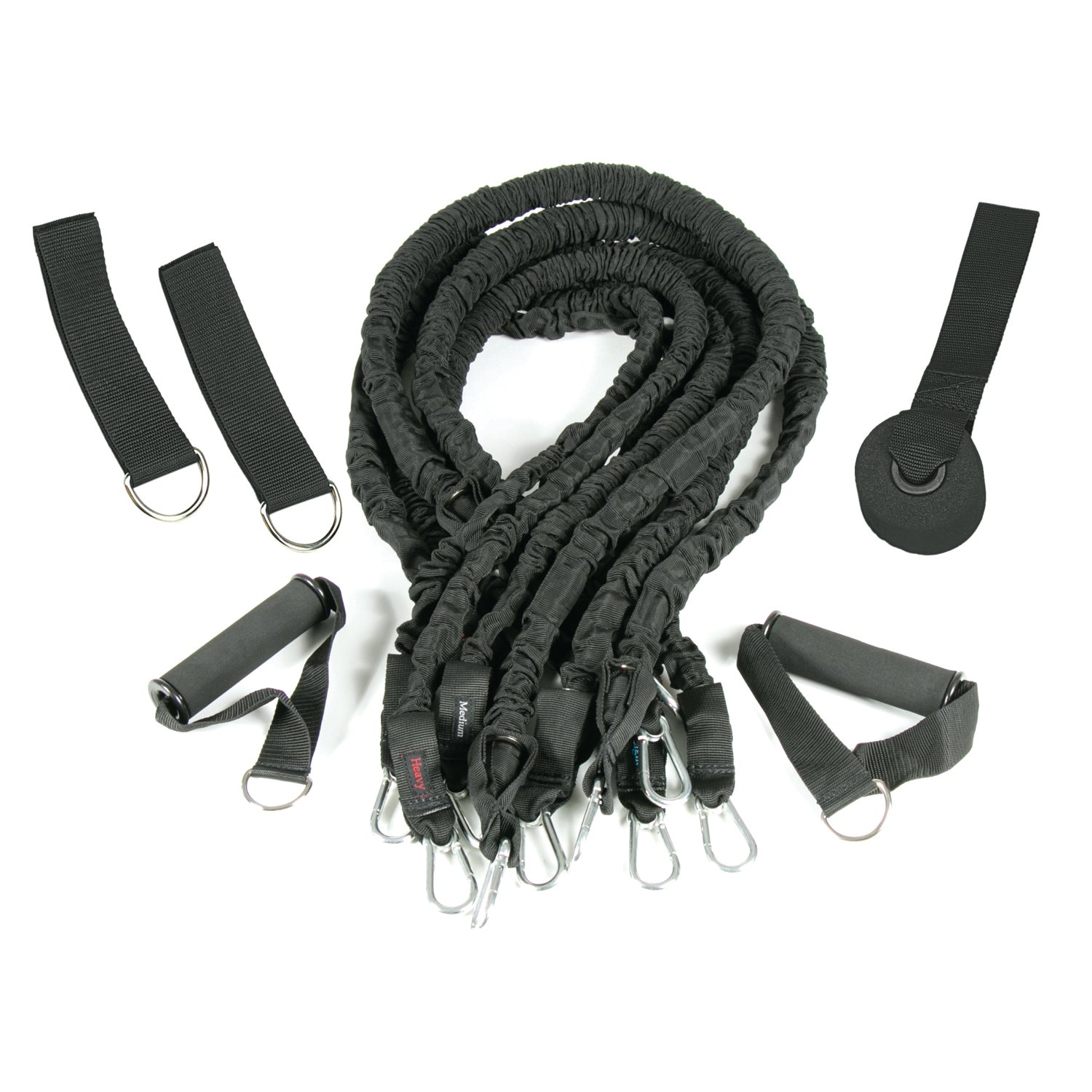 American Barbell Black Resistance Tubes
RT-LP-BLK
The American Barbell Black Resistance Tubes comprise a complete home gym system. In addition to the six resistance bands, you also get a pair of grip handles, 2 Velcro straps, and a foam strap. The tubes are shrouded in a black protective covering to keep them in great condition. These bands are extremely durable and responsive.
The 6 resistance bands in this set provide you with a complete range of resistance levels as follows:
Extra Light – Provides 1-5 lbs of resistance
Light – Provides 1-15 lbs of resistance
Medium – Provides 1-25 lbs of resistance
Heavy – Provides 1-35 lbs of resistance
Extra Heavy – Provides 1-40 lbs of resistance
Ultra Heavy – Provides 1-50 lbs of resistance
The foam strap that is part of this set allows you to attach your bands to a door in order to replicate cable resistance machines exercises that are performed in a commercial gym. The soft foam handles and Velcro straps allow you to maximize your workout options. The sturdy carabiners fitted to both ends of each band allow you to quickly and easily fit them to the attachments.
6 resistance bands of varying resistance levels
2X grip handles + 2 Velcro straps
Foam strap
Sturdy carabiners
Black protective band shroud
Soft rubber handles
Durable rubber tube
 
PRODUCT SAFETY INFORMATION
At American Barbell we strive to offer the safest products possible and provide our customers with the best safety protocols available. These products have hardware and other items that must be inspected daily for wear/tear and tightened if required. Pull any item from use immediately that shows any sign of loosening or wear/tear. Constant maintenance of all items and disposing of products with excessive wear and tear are imperative to avoid possible injury. To see safety documentation for this product, click here.